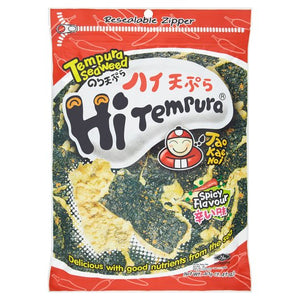 Tao Kae Noi Tempura Seaweed Hot and Spicy Flavoured 40G
Product Description
Hi Tempura Spicy Crispy Seaweed with Tempura Batter Coating
"Tao Kae Noi" Tempura Seaweed is one of our most well known products. We select high quality, fresh seaweed and the best wheat flour to create our special recipe. Our processes ensure the highest standards of hygiene and freshness, whilst preserving the crispiness and natural taste of the product. So, you can always trust the quality and enjoy the great taste of this special product!
New Arrival
Seaweed is grilled in the suitable temperature to maintain its quality as well as the nutrient; it is then coat with our unique (Hot Chilli Squid/Kimchi/Classic) sauce ensuring the greatest smell and taste. Super Crisp-all flavours are best served as snack with your favourite drink.
Delicious with good nutrients from the sea
Halal
Information
Ingredients
Wheat Flour (contains Gluten) (35%), Seaweed (25%), Modified Tapioca Starch, Palm Oil, Egg White Powder, Salt, Sugar, Garlic Powder, White Pepper Powder, Chilli Powder (1%), Hydrolysed Soya Protein, Flavour Enhancers, E631
Allergy Information
Contains: Eggs, Gluten, Soya, Wheat
Storage
Keep in cool and dry place, avoid direct sunlight and high temperature.Best Before End: See inkjet on packet.
Produce of
Product of Thailand
Preparation and Usage
Ready to eat, once opened consume immediately.