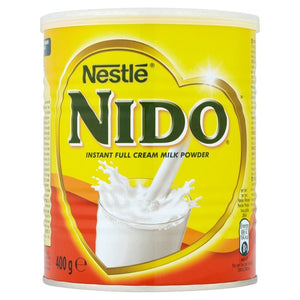 Nestle Nido Instant Full Cream Milk Powder 400g
Dried whole milk powder.
Nido® is a dry whole milk powder. Simply mix 32.5g (about 3 teaspoons) of milk powder and 225 ml off water to make 250mls of Nido® Milk. Why not also try Nido® milk powder in your tea and coffee?
Nido® was first launched during the 1940s as an extremely versatile and practical milk powder, ready to use at all times. The same is true to today as Nido® milk powder can be used in many recipes and drinks, as a simple substitute for fresh milk.
Packed in a protective atmosphere.
Nutritional Compass®
®Registered Trademark of Société des Produits Nestlé S.A.
Each tin contains 400g of Nestle Nido® instant full cream milk powder
Ingredients
Whole Milk Powder, Emulsifier (Soya Lecithin), Fat content not less than 28%
Allergy Information : Contains: Milk, Soya
Warnings : Not to be used to feed infants below 12 months of age.