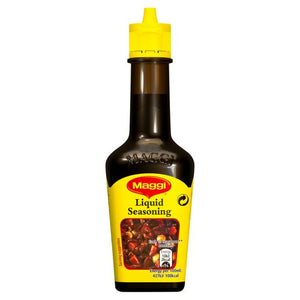 Maggi Liquid Seasoning 100ml
Maggi Liquid Seasoning is a strong aromatic liquid flavouring. Simply add Maggi Liquid Seasoning drop by drop to bring out the delicious flavours in your stir-fries, casseroles, soups and sauces! Suitable for vegetarians, it's great to add a delicious roasted flavour to vegetarian dishes.
With our World Foods range, we're proud to celebrate the fact that people all over the world love Maggi®. From Nigeria to India, whether you're looking for a taste of home or a chance to explore something new, you can find what you're looking for with Maggi® World Foods.
Maggi® was founded in 1872 by Swiss entrepreneur Julius Maggi, a pioneer of food production who was passionate about producing accessible, deliciously nutritious food. Today, this passion lives on in everything we do over at Maggi®.
Our passion for taste and quality shines through in all our recipes; from So Juicy® to So Tender®, from recipe mixes to stocks, from noodles to seasoning. Inspire a love of homemade cooking every day with Maggi®!
If you like Maggi® Liquid Seasoning, and would like a little more heat, why not try Maggi® Hot Liquid Seasoning?
For more tasty meal ideas visit www.maggi.co.uk
Classic sauce for delicious savoury flavour
Use in cooking to bring out the flavours of any savoury dish
Ingredients
Hydrolysed Vegetable Protein (Water, Wheat Protein, Salt), Water, Flavourings (with Wheat), Flavour Enhancers (Monosodium Glutamate, Disodium Inosinate), Salt, Sugar
Allergy Information : Contains: Wheat