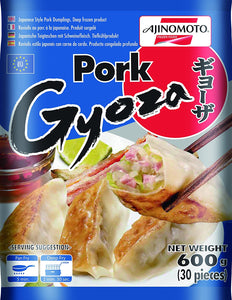 Ajinomoto Pork Gyoza 600g (30 pcs)
A 600g bag of Anjinomoto pork gyoza, also known as pork dumplings. In Japan, most, if not all gyoza are made from minced pork. If you've ever been to Japan and had gyoza, this is the flavour to buy if you're looking for the authentic taste.
Ingredients:
Vegetables 31% (cabbage, onion), WHEAT flour, pork meat 19%, water, pork fat, salt, bread crumbs (WHEAT flour, salt, yeast), garlic powder, WHEAT gluten, flavour enhancers (E621, E631), SOY sauce (water, SOY bean,WHEAT, salt), SESAME oil, potato starch, ginger powder.
Directions:
For best results, cook from frozen. 
*Pan fry (Japanese style with crispy bottom): Pour 1 tablespoon of oil into a frying pan and heat. Add frozen product and fry for 2 minutes. Then pour 1 cup of water (about 60ml) into the pan. Place a lid on the pan and steam for two minutes. Take of the lid and boil again for 1 minute until all the water evaporates.
*Deep fry: Fry at 170°C - 180°C for about 2 minutes 30 seconds.
*Boil (Chinese style, soft and moist): Boil for about 3 minutes 30 seconds into simmering water.
*Steam: Steam at 100°C for about 5 minutes.
Please be advised that this frozen product will defrost during delivery and the dumplings may stick together. Upon arrival please keep it refrigerated and we recommend to consume within 24 hours or manufacturer's guidelines, whichever is soonest.