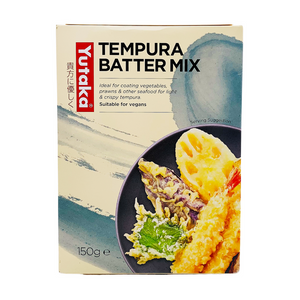 Yutaka Tempura Batter Mix 150g
Ideal for Coating Prawns, Vegetables and other Seafood for Light & Crispy Tempura
Suitable for Vegans
Ingredients
Wheat flour (Gluten), Raising agents [Corn starch, E500, E575, E450i], Acidity regulator [E296].
Storage Information
Store in a cool dry place.
Usage
How to make Tempura.
1. Prepare ingredients such as prawns, fish fillets and vegetables, dry well. Keep chilled until use.
2. Pour 220ml of ice-cold water into a mixing bowl and add 1 packet (150g) of Yutaka Tempura Batter Mix (Batter : Water ratio = 1 : 1.5). Do not overmix. The batter is perfect when small flour lumps appear at the surface of the batter mix.
3. In a deep frying pan, heat at least 5cm of vegetable oil to 170-180oC.
4. Dip the ingredients in the batter, then drain to remove excess. Place gently into the hot oil. Fry in batches to avoid lowering the temperature. Drain on a paper towel.
Serve immediately with salt or soy sauce. Always check food is thoroughly cooked before serving.
Product of China