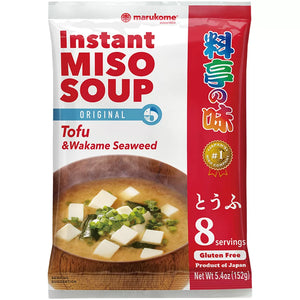 Marukome Instant Miso Soup - Tofu and Wakame Seaweed (8 servings) 152g
Instant Ryotei No Aji Miso Soup Tofu Vegetarian
A gluten-free vegetarian miso soup with no MSG.
Tofu toppings with dashi stock from kelp and shiitake mushrooms. In addition, onion extract brings out the flavor.
The product is recommended not only for customers who are vegetarians but also for those who like refreshing flavor.

Ingredients:
Seasoned Soybean Paste (Soybean Paste (Water, Soybeans, Rice, Salt), Water, Ethyl Alcohol, Sugar, Hydrolysed Soy Protein, Yeast Extract Powder (Yeast Extract, Dextrin), Salt, Onion Extract, Kelp Extract (Kelp, Salt, Glucose Syrup), Shiitake Mushroom Extract Powder (Shiitake Mushroom Extract. Dextrin)), Garnish (Dried Tofu (3%) (Soybeans, Starch, Glucose, Glucose Syrup, Maltose, Firming Agent:e516). Dried Wakame Seaweed (2. 5%) (Wakame Seaweed. Salt). Dried Spring Onion (Spring Onion, Glucose)).


Dried tofu and dried wakame seaweed do not originate from Japan.
Preparations: Empty the contents of each package into a mug or bowl. Add 160ml of boiling water and stir well.
Once opened, consume as soon as possible.
Store in a cool, dry place away from direct sunlight.
Product of Japan