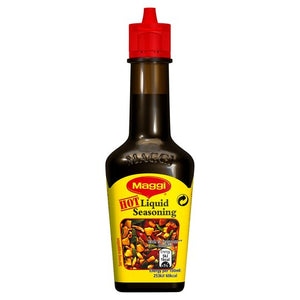 Maggi Liquid Seasoning Hot 100ml
Maggi Hot Liquid Seasoning is a strong aromatic & spicy liquid flavouring. Simply add Maggi Liquid Seasoning drop by drop to bring out the delicious flavours in your stir-fries, casseroles, soups and sauces! Suitable for vegetarians, it's great to add a delicious roasted flavour to vegetarian dishes.
With our World Foods range, we're proud to celebrate the fact that people all over the world love Maggi®. From Nigeria to India, whether you're looking for a taste of home or a chance to explore something new, you can find what you're looking for with Maggi® World Foods.
A more spicy version of the classic sauce for an intense and delicious savoury flavour
Use in cooking to bring out the flavours of any savoury dish
Suitable for vegetarians
Ingredients
Water, Hydrolysed Vegetable Protein (Water, Wheat Protein, Salt), Salt, Flavourings (with Wheat and Celery), Flavour Enhancers (Monosodium Glutamate, Disodium Inosinate), Yeast Extract, Sugar, Thickener (Xanthan Gum)
Allergy Information : Contains: Celery, Wheat