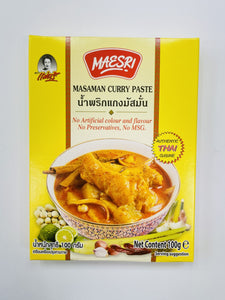 Maesri Masaman Curry Paste 100g
Masaman curry paste is a richly spiced paste originating in the south of Thailand close to the border of Malaysia. Masaman curries are made with a flavoursome blend of spices including cardamon, cumin and cloves, reflecting its Persian influences. The thick, stew-like curry has a mild spiciness and a hint of sweetness.
Mix this masaman curry paste with coconut cream and add to stir-fried lamb or beef.
Allergen Advice: Contains Soy.
No Artificial Colouring, No Artificial Flavouring, No Preservatives and No MSG. 
Product of Thailand.
Ingredients: 
Garlic 22%, Sugar 20%, Soybean Oil 15.2%, Dried Red Chillies 13%, Tamarind Juice 11%, Shallot 5.5%, Salt 5.5%, Lemongrass 3.3%, Spices 2% (Coriander Seeds, Cumin, Cardamom, Bay Leaves, Lesser Galanga, Cloves), Kaffir Lime 1.5%, Galangal 1%