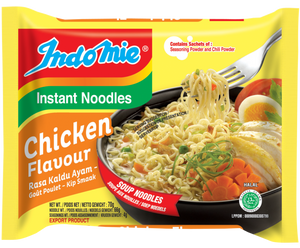 Indomie Instant Noodles Chicken Flavour 75g
It's Chicken flavour, being more of a fragrance than a taste. It comes with a little packet of chilli powder, so you can control the spice.
Directions:
Boil noodles in briskly boiling water and simmer for 3 minutes. Mix seasoning powder, oil, sweet soy sauce and chilli powder (according to taste) in a bowl while noodles are being cooked. Remove noodles from water and drain well. Stir noodles with the seasonings and mix well. Ready to be served.
Ingredients:
Noodles: Wheat Flour (70%), Refined Palm Oil (Contains Antioxidant E319), Salt, Acidity Regulators (E452(I), E501(I), E500(I)), Thickener (E412), Colour (E101(I)), Seasoning Powder: Salt, Flavour Enhancers (E621, E627, E631), Sugar, Yeast Extract, Pepper, Artificial Flavour (1.9%), Garlic Powder, Leek, Onion Powder, Acidity Regulator (E330), Lime Flavour, Seasoning Oil: Refined Palm Oil (Contains Antioxidant E319, Onion, Garlic, Lemongrass, Galangal, Bay Leaves, Lime Leaves, Turmeric, Ginger, Candlenut (Tree Nut), Chilli Powder
Product of Indonesia